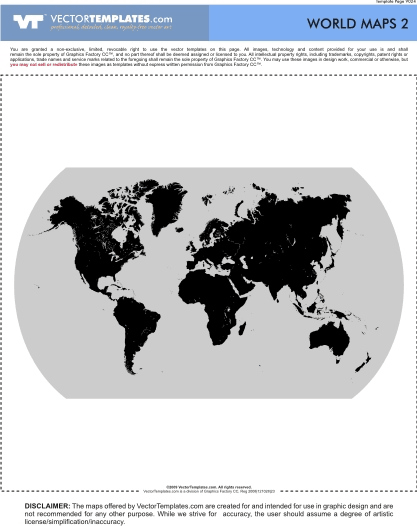 Title: Vector World Map (Very High Detail) :Free Download
Description: A very high detail, blank world map. Major lakes included. Most mojor islands included. Black contininents on grey background. Warning: This is a very high detail map, consisting of around 54,000 nodes. May cause performance problems on older computers.
Tags: vectors templates editable download vector world maps high detail blank maps continents globes
Price:
Formats Available
The download is a single ZIP file containing this image in the formats:
Adobe Illustrator

EPS
CorelDraw
Additional Formats
If you need this image in another format, such as PSD, PDF etc., please contact us.
Acceptable Use
As long as you do not use this image to compete with VectorTemplates.com, you may use it for any purpose, forever. Please see the license agreement for details.
Attribution (How to say "Thank you")
If you use this image on your site or in your publication, please mention VectorTemplates.com as the source. A link to VectorTemplates.com is not required, but links are always appreciated.