Branding and Marketing are the most crucial part of any business. A good looking brand and superior product attract more customers. You need to design your product, application, logo, and apparel labels attractively to look unique. Doing this on your own would be very challenging as it requires a good command over graphic skills and it will take considerable time and mental energy. Of course, you don't want this to happen.

Placeit is a platform that makes your work quick and efficient. From branding, creating a logo, and promotion, Placeit offers everything.
About Placeit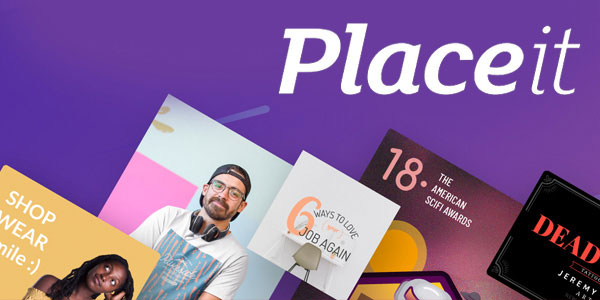 At Placeit, you have to pick a mockup and upload a design image. Placeit will do all the technical work for you. You don't have to use any complicated and expensive software. This website creates high-quality branding and marketing tools. Companies or any individual can create visual assets for their brand. Thousands of templates are available on the website and from which you can choose a template of your choice. Here, you can get ideas to promote your brand. You can also make fantastic video mockups on any device. To start work on Placeit, you can choose from monthly and yearly subscriptions.
It is a part of Envato, which runs the world's largest marketplace and helps people in creative projects.
Goals
Truly

Truly

Easy To Use: You can simply create your design and upload images on the Placeit portal. Placeit will do the rest of the technical work.
Thousands Of Templates: A plethora of templates are available on the website to provide users a collection of assets that can fulfill all their needs.
Make It Affordable: This website has made professional branding and marketing tools accessible to everyone at affordable pricing. A monthly subscription costs $14.95, and a yearly subscription costs $99.95. You can also purchase individual templates. Save 50% discount on annual subscription with PlaceIt Coupon Code.
Types of Designs
A user can create a design:
For its applications to enable multi-device compatibility.
For a t-shirt to upload it on your shopping site.
For a logo of your business, such as doctors, teachers, finance, etc.
For a video promotion.
For mugs, tote bags, hats, apparels, and many more.
Make and download designs within seconds from the templates available on the website. Apply it to a product to see the look of it. You will get high-resolution images ready to upload to your shop. Yeah! You will need a commercial license for all your downloads. After purchasing a template design from Placeit, you have the right to use your design anywhere for commercial, marketing, or advertising purposes.
A Portal to Learn and Execute
Various blogs are available on the website to guide you on how to create your brand logo, promote your brand, ideas on advertising, and marketing. If you are a novice, then you can learn through these blogs and apply those ideas in your business.
Bottom Line
Instead of downloading software to create logos or promotion videos, you can quickly go to placeit.net, upload an image, choose a background color, and leave everything else up to Placeit. This website has made branding and marketing work so easy that even a newbie can do it by learning from their website and then create templates, mockups, and videos. What else do you need? Visit their website and experience the innovation.