Graphic images speak more than words! If you are looking for creative graphics design tools, take a peek into the Design Pickle software. Gone are the days where people tend to read online content. Now, they are showing interest in eye-catching visuals, gripping content that triggers and convenience the audience to stay on websites or e-commerce stores.
If you're running a business online, it isn't easy for you to browse high-quality designs over the world of the internet. You have to do research work and invest more in premium graphics.
What's an affordable solution? Well, with the plethora of options,
Design Pickle
is offering top-notch services by providing better designs, security, 24/7 email support to the customers at affordable prices.
If you are a newbie or don't know how to get started, here I've done intensive research work and illustrated the Design Pickle Review by analyzing online reviews, ratings, features, cost, pros and cons, and many more. Let's dive into the topic!
"Graphic designing is intelligence made visible"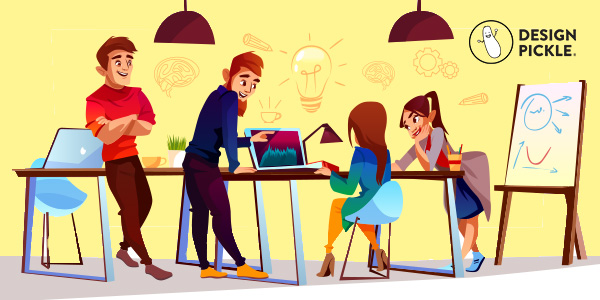 Design Pickle
What is Design Pickle?
Design Pickle is the world's
number one graphic designing platform
that provides countless designs to work on thousands of businesses at decent prices. It was founded by Russ Perry in 2015 to access seamless graphic images regularly without hassle. The mission is to change the lives of millions of people around the world by committing dedicated services and HD images.
List of Design Pickle Features
Design Pickle is a great way to kick-start your graphic designing skills. If you are a freelance designer and want to craft multiple designs, you can create them using these fantastic features. Also, you can assign designing work to pro by investing little high to use on various sites. Here, I've mentioned the list of features that helps in making the site look ultra-modern. Check it out!
Software
:- Spend less time organizing and more time doing the designing work. This was specially designed to enhance the user experience. The best part is you will be given a dedicated graphic designer to handle your work to meet your business needs and deeds. With a single tap on the application, you can choose the desired image you want to place on the site. Despite this, you can get the premium stock photos from Getty Images by affording $25 per month.
Scalability
:- It's never been easy to create eye-feasting designs. Now you can get them for your brand or client's projects using this software. This incredible platform made it easy to grow your business globally and give access to add/remove the designers as per the project's requirements.
Security
:- This feature enables you to secure the designs using a cloud-based application where you alongside the team, can view, edit, and monitor at any time. The main advantage is it provides backup for your precious data, so you don't have to purchase separate storage devices like hard disk drives, USB, etc.,
Support Services
:- Design Pickle offers world-class support services for customers in training and mentoring. Further, you can interact with the team in just two hours after rising the queries through emails. And the collection of guides, e-books, and templates helps you to express ideas and get the way you want from designers.
Is Design Pickle Worth Purchasing?
In the world of digitalization, prices are increasing day-by-day. So, it's essential for an individual to know the business needs and choose an appropriate
pricing plan
. Following are the premium plans offered by the design pickle to match with different users.
Standard Plan
:- This is for people who want to utilize graphics designing services in a short period. You can access unlimited stock photos for $399/month and live chat instantly. Besides, you get a money refund within 14days of purchase.
Pro Plan
:- If you want to use graphics designing applications for years, you need to invest $995/month. You can create countless designs, illustrations utilizing this software, and collaborate with real-time applications, API access to monitor in the best possible way.
Apart from the cost, you should look for the quality services offered by the organization. Nevertheless, you end up wasting time, money, and effort. Further, you can contact the technical team who are available 24/7 to assist you round the clock. Still, if you aren't happy with the plan, browse for the cheapest graphic designing software.
Pros and Cons of Design Pickle
Pros
Get access to hundreds of stock photos, design elements, and free templates using the Design Pickle application.
Design Pickle has a dedicated team full of interns, experts to understand the marketing needs and come up with the best solution.
Focuses on changing the lives of designers by introducing quality tools. If you are a designer with good creative space, collaborate with the organization.
It is made compatible with mobiles - Android, iPhone, tablets, desktops, and laptops to work efficiently without committing too many errors.
The support team is available 24/7, where you clarify doubts through email, live chat without hesitation.
Get the featured images for your businesses in different sizes such as 700*300 pixels, 1200*628 pixels, 1080*1080 pixels.
If you have an online business and know exactly what you want for the niche, connect with the designing team to give valuable inputs, and make it look premium.
They are ready to handle bulk projects and submit within deadlines by assigning more designers to work on multiple websites.
You can cancel the subscription plan at any time, and the team will not provoke you with boring questions about canceling the program.
On average, scribing to Designing Pickle will offer 1-3 designs with one day turn around time.
Cons
Take time to re-edit the designs.
Not suitable for designing logos and branding.
Design Pickle Resources
Visiting the official site - Design Pickle helps you to come across an extensive collection of handbooks, guides to inspire you all the time. It has everything that you can start a business online from scratch. Further, you need to fill in the name, email and agree to the privacy policy to get the free guide. Given below are some of the
resources that brainstorm ideas
and encourages you to implement them on the site/blog.
Digital Marketing for Beginners

How to launch a first Facebook Ad campaign
Ultimate Marketing Automation Checklist
DIY Graphic Design Toolbox
Digital Design Library
Website Launch Checklist
2019 Design Trends
8 Ways to Prevent Cyber Attacks
Beginners Guide for Scaling the Business
Most Frequently Asked Questions
1. How to change my Design Pickle account password?
A: To change the account password, go to profile settings, click on change password, and text a new one that you can remember for a long time. The other way is to tap on forgot password and reset as you like.
2. How does Design Pickle work?
A: Design Pickle is an excellent graphic designing platform that offers top-notch services to its customers by incorporating security, software, systems, scalability, and more. To make use of this application, you need to make a request to the team and get approved to share your work requirements. They will assign a specific designer to you who have good command in the relevant field. Furthermore, you can provide the inputs to match with business niche (health, beauty, fashion, etc.). And the prices are a bit affordable too.
3. Where is Design Pickle located?
A: The United States of America.
4. I want to set up email notifications. Is this possible?
A: Setting up email notifications let you know what's happening on a daily or weekly basis. To enable this feature, head over to settings, and hit the toggle button to on/off for receiving notifications.
5. How much Design Pickle charges for premium services?
A: The standard plan is available for just $399/month and $995/month for the pro plan. However, it's an individual opinion to go with budget and business preferences.
6.Can I be a part of the Design Pickle affiliate program?
A: Yeah! You can become an affiliate program and earn a commission by referring Design Pickle graphic designing services to your circle - friends, family members, and neighbors. As the affiliate marketing services are confined to a few, people specialized in content writing, and digital marketing professionals who run websites, e-commerce stores.
7. How to contact the Design Pickle support team?
A: If you have queries regarding graphics, designing team, cost, how to use, and installation procedure, then you can chat or mail to
[email protected]
and
[email protected]
8. Do I get a 21-days risk-free guarantee for a pro plan?
A: Yes! There is no doubt that you get a 21days risk-free guarantee for the pro plan. On top of that, you get 14days of guarantee for the standard pricing plan. If the designs are not up to the mark, claim for money refund by submitting the requests for work reports, and feedback.
9. I found a bug in the software. What should I do?
A: While installing, you may experience issues and pop-up every time you open the software. If you find a problem at the initial stages, submit a request by entering an email address, the issue about description, URL, screenshots, and videos in the Submission Form.
10. What services can I expect from Design Pickle software?
A: You can seek high-definition images for banners, icons, social sharing, blogs, websites, graphic designs, promos, Ads, and many more. Besides, you will be interacting with the core team to know the work status.
11. Where can I follow the Design Pickle on social media?
A: You can connect and follow the pages to receive the daily dose of updates, notifications on Facebook, Twitter, Youtube, Instagram, and Pinterest profiles.
Bottom Line
Wrapping up, Design Pickle is the best graphic designing tool that is in huge demand now. It has won the designer's heart for featuring top-notch services that can be implemented in different ways.
Are you currently using any of the branded graphics designing software? Which one do you like the most? If you have any queries regarding Design Pickle software, let us know in the comment box given below.