For a website to attract attention or not depends on what people see when they open the site. Imagine if all this was only a few clicks away?

In the last few years, the trend of e-commerce has grown by the day. One of the most convenient modes for buying or selling is now the internet. The various platforms engaged in this are flaunting attractive displays of products and can generate enough traffic out of which emerge the converted percentage of buyers.
It is possible with Debutify?
What is Debutify?
The aspect of designing your platform is no longer dependent on substantial technical knowledge and sober mind-boggling programs. Debutify helps you to apply themes that do not need perfection at computer skills. With the help of Debutify, either pre-configured settings can prepare your e-commerce platform, or you may even customize your store as per your choice and preference.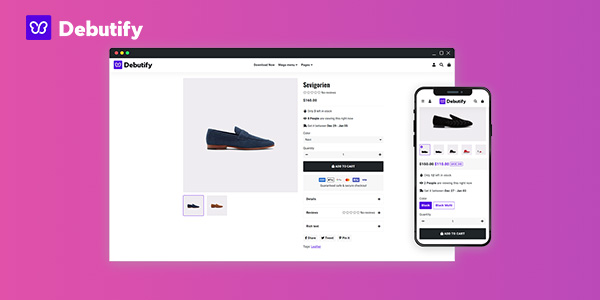 Debutify has all you desire, whether it is a quick and mobile-friendly theme, high-converting addons, the art of choosing the best products that will sell and bring income, and training and mentoring. There are fast themes that can be downloaded and hence it provides premium choices too. What is most impressive is the installation of theme and bulk addons in just one click.
If the thought of doing all this is scaring you, the constant professional customer service has given an edge to the service provided. Their 24 hours resolution has helped in resolving queries giving long-lasting confidence to people. Whether you have one kind of product or a general store has a range and types of products, debutify will sway you by the best dynamic design solution.
Features of Debutify
There are many features of Debutify that make it one of the fastest and most competitive providers for themes today. The story of a few clicks has some exciting features which to the e-commerce authority is imperative.
One of the main features is the availability of add to cart options. Considering that while shopping online, buyers tend to order multiple products, carts are indeed essential. In addition to this cart, Cart countdown and card discount are widely observed by buyers.
In the era of artificial intelligence, AI's use is yet another feature that Debutify can boast of. Most customers prefer communicating with the chatbot to get solutions for their issues. Apart from color swatches, the collection adds to the cart is an important feature that is an integral part of debutify.
Themes by Debutify
There are various themes that the debutify offers to online buyers. Each piece is best suited for a specific product type. However, some of the common ones are:
Currency converter: This theme is one of the most philosophical themes of Debutify. Based on the country, it can detect the currency and provides multiple placement options. With a multi-currency checkout, the loading icon appears when a change in currency is selected.
Product sliders: These are autoplay sliders, and the speed can be altered to suit the presentation of the product. It provides a choice between arrow and dot. In both mobiles and desktop, swiping can help move the slider.
Customizable slideshow: This is one of the most trendy themes and is mostly seen applied to creatively designed websites. In this theme, the background in the form of pictures remains slightly subdued. The text on the same is highlighted on purpose.
Product images: This theme is famous for its featured image slider. While there is the flexibility of left and right alignment with zoom or over, the synchronized slider is widely used and preferred.
Product details: The theme offers a sticky on scrolling and can add to the cart option. With a dynamic checkout button, there is a product tag list. It is a desirable theme for a product that offers multiple types of features.
Related products: One of the most common themes used by many e-commerce platforms, this one aims at provided related searches too. These are further accompanied by detailed product list and slider options again.
The Uniqueness of Debutify?
Debutify is different. The variety that it offers in its design element has been unique. It works totally on the service model. Uncompromised customer support makes it a highly preferred and desirable option for designing online shops.
There is a designated Facebook group for master plan members that acts like a forum where members discuss various aspects and themes and any issues faced.
While purchasing anything online, the concern that hovers the mind is that of information safety. However, with Debutify, your credit card details are secure.
With Debutify, you certainly have a vast growing audience. Considering that it can translate your store into as many as 20 languages, the reach is much wider in the spectrum. The themes here are conducive to change the design and layout to match any niche.
Debutify Pricing
Debutify has included the add to cart animation, chatbox, cart discount, and cart countdown in the themes as far as prices are concerned. However, Shopify charges $35.88 for all features guaranteeing the conversion rate of 0.15 percent, except add to the cart, which is $39.4 and conversion rate 0.12%. Save 50% OFF on yearly plan with Debutify Promo Code.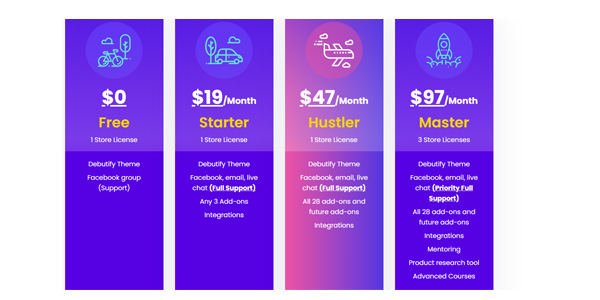 Conclusion:
Discussing the various aspects of Debutify, only goes to show that it is gaining importance by the day and what matters the most is what people using it feel. The feedback has been extremely pleasing, and it seems that somewhere it is preferred to Shopify as the latter has limited themes. People continuously want something different, and when clubbed by trusted support, it is all the better. Debutify has a detailed self-explanatory site itself where each procedure has videos. And to add to this, round the clock customer support is the need of the hour.